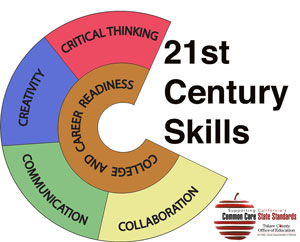 Link to three Videos:
"The C's of Change" - Video #1
"The New C's of Change - Aligned to the Common Core" - Video #2
"Turn, Turn, Turn" - Video #3
Education for Life and Work
: Developing Transferable Knowledge and Skills for the 21st Century
Report
Ppt
​
MI Overarching Expectations (HSCE and CCSS)
21st Century Skills and Policy on Learning (HSCE)
Habits of Mind (HSCE)
Modern Teacher
Resources
21st Century Thinking
A Whole New Mind -- Daniel Pink (2005)
Five Minds for the Future -- Howard Gardner (2008)
Truth, Beauty, and Goodness Reframed -- Howard Gardner (2011)
Four Key Knowledge Dimensions
declarative - knowing the facts and information
procedural - knowing how to do something
conceptual - knowing relationships between things or within a larger structure
situational -knowing a particular situation
Cognitive Growth Targets -- Processes of Thinking
Retrieving - recalling or recognizing knowledge from memory
Comprehending -initial understanding of knowledge
Analyzing - examining knowledge by breaking it down into components to determine relationships, structure, and/or purpose
Reasoning - the process of drawing conclusions or making judgments based upon evidence, facts, or criteria
Creating - the process of making, inventing, or producing something new
Metacognition- the process of being aware of and monitoring one's own thinking and learning
Self-Actualization - the process of understanding one's self (self-esteem and self-efficacy)
Techniques for Creative Thinking -
(Charles Cave's web page) (
Earlier list
)
LARC Method
- (Left and Right Creativity)
The LARC method is step by step process that brings the right (creative) side of your brain into play with the left (logical) side. Each phase of the program suggest specific, easy-to-follow techniques.
The technique comes from the book
Unleashing the Right Side of the Brain
by Robert Williams and John Stockmyer, published by The Stephen Greene Press in 1987.
Creative Thinking I - Tutor Guide (Reversal and Lateral Thinking)
The Creativity Web
- Resources for Creativity and Innovation
Creativity Techniques A-Z
-
an introduction to a range of tools and techniques for both idea generation (Creativity) and converting those ideas into reality (Innovation).
Coding in the Classroom
-- Fifteen + Ways of Teaching Every Student to Code (even without a computer)
Can We Auto-Correct Humanity
Why I Refuse to Let Technology Control Me -- We need not delete social networks or destroy cell phones, the message is simple, be balanced, be mindful, be present, be here.